A Basketball Family Affair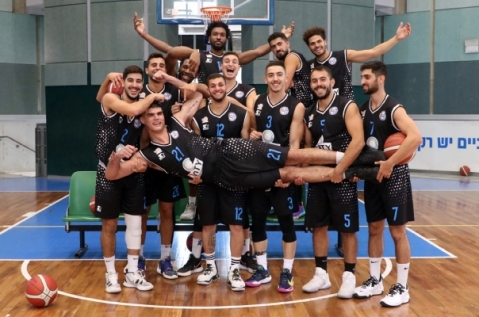 The year was 2004. My son Yair, who was 18 years old, was readying himself for his pre-army gap year. His dream was to be in the IDF's Duvdevan urban anti-terror unit but he was also quite concerned about his basketball future.

Playing for years in his hometown of Maale Adumim, located over the green line and a fifteen-minute drive to Jerusalem, Yair had gone as far as he could playing in the "youth" leagues in the city. Although the MA (Maale Adumim) team was quite successful, once you reached a certain age there was no place to play and represent the city.
It was then that my wife Maya decided to write a letter to Mayor Kashriel urging him to consider launching a Men's team in the city. This way, players who grew up in MA and played basketball locally throughout their youth, would be able to stay at home and continue to play.
It took six years but the seeds were planted and in 2010 MA had a team in the Men's professional league in Israel with my son as the captain. They began at the very bottom, in the third division. The team had wild success in its first two years moving up two leagues in two consecutive seasons.
After the initial achievements, Maale Adumim languished in the "Israel League's" Southern Division for nine long years. Then Maale Adumim finally won another championship. It continued its unlikely run to the pinnacle of Israeli basketball by beating Maccabi Rechovot. This win catapulted MA into the National League, the second-highest league in Israel. MA also made Israel sports history by becoming the only team ever from over the green line to reach such a high level in Israeli professional sports.
My son's rapid rise through the Israeli basketball league may have had its origins back in the fifties at Yeshiva University. My father, Abbey Gewirtz, was a star for the YU basketball team and was named one of the all-time all-stars to ever play for the YU Maccabees. He played under coach "Red Saracheck". "Red" was not only a great coach at YU for many years but also was considered one of the great basketball minds ever to come out of the NY area.
Yair was always a great athlete. He excelled at soccer, softball, and eventually American football after I co-founded the American Football in Israel organization in Israel in 1990. He began concentrating on basketball and became the captain of the MA team in 2017.As younger and stronger players were recruited by the team, Yair started seeing less playing time. In 2019 he retired from playing and was chosen to coach his hometown team.
After a rough first year in which MA's star player was permanently suspended because he was caught trying to smuggle large amounts of marijuana through the city's post office, Maccabi Maale Adumim had an impressive start to its second season under Head Coach Gewirtz. The Coronavirus, however, abruptly ended the season cutting short Maale Adumim's dream of reaching the next level.
Despite its misfortune and frustration, Maale Adumim stuck with Coach Gewirtz even though there were calls for him to be let go. Hiring Gewirtz in the first place was a true break in tradition as they traditionally hired coaches from OUTSIDE the city. But the pro-Gewirtz faction won out and his contract was extended for a third year. Gewirtz also received some extra budget to bring in some top-notch talent. Subsequently, the 2020/21 season is when it all came together.
Despite shutting down for long periods due to Corona and the war with Hamas, Maale Adumim went on to have a dream season. MA edged out the league favorite Rechvot to make Israeli basketball history and earn a place in the prestigious "Leumit" National league.
The team has some terrific players such as Barak Orion, (named the league MVP) but none more electric than Simcha Halpert. Simcha played last year for the Yeshiva University Maccabees. Simcha was a major player in YU's magical run last year. Before Corona cut their run short, the Maccabees were on their way to the Division 3 NCAA championship with a 29-1 record.
I had the privilege of meeting the YU basketball players, including Halpert, shortly after YU closed down and had moved their practices to my friend's gym in Long Island, New York. During one closed practice, I approached Elliot Steinmetz who had coached YU on their magical 2020 run. I inquired if any of his seniors would want to play basketball professionally in Israel. I told him that my son was a coach in the third division and that not only was he a great coach but also a mensch for whom any of his former players would love to play. Elliot introduced me to Halpert. We talked for a few minutes and I gave him my son's number in Israel. They spoke soon after. The rest, as they say, is history. Halpert ended up making aliyah and then went on to average 24 points a game. He was Coach Gewirtz's instant offense off the bench, and a major reason the team won the championship.
The irony of having a star player from YU helping to propel MA to the second league was not lost on coach Gewirtz. "Having someone from YU make such a great contribution to our success this year kind of closes a circle for me and my family, knowing my grandfather is recognized as one of YU's great players".
Coach Gewirtz, who now lives in the Judean Settlement of Ofra, is excited about the coming year. With its newfound success and recognition, MA will now have a budget of a couple of million shekels, a newly refurbished facility and higher player salaries, standard for the National League. Gewirtz will not only be recruiting Israeli players for the newly promoted team but can also bring in two foreign players from abroad.
Maale Adumim Mayor Benny Kashriel and Deputy Mayor Guy Yifrach besides being supportive and excited about the prospect of having a team from MA in the top league, will do whatever it takes to give MA the best chance for success. Kashriel is a seasoned politician. He knows that the best PR for his city, and Judea and Samaria as a whole, might be through Gewirtz and his band of overachievers.
Coach Gewirtz can then continue his ascent in the world of Israeli Basketball following in the footsteps of such "American" legends as Tal Brody, David Blatt, and Simmy Reguer. As Gewirtz's grandfather Abbey said from his home in NY, "You never know".
Comments
No comments made yet. Be the first to submit a comment