The Israeli-Druze House of Many Colors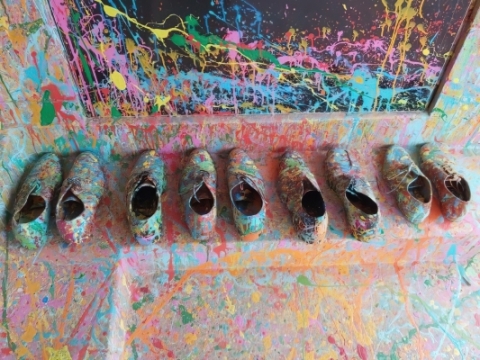 Photos and text by Lydia Aisenberg

To say that Israeli-Druze artist Sam Halabi is a colorful character would be an absolute understatement. Not only has the artist drip-painted his late parents' home externally with a multitude of colors, but also every wall, ceiling, window and absolutely everything else – including the kitchen sink – within!
My recent visit to the House of Colors proved to be an almost out-of-this-world, awesome experience. I took an instant decision never to bring my young grandchildren to see this playful, but also deeply thought-provoking abode, out of fear my home might also end up a likewise multi-color extravaganza.
The 3-storey palette of psychedelic color can be spotted from afar, perched on high among a cluster of other homes built across and between the hilltops of Mt. Carmel, forming Daliat al-Carmel, the largest Druze village in Israel. Daliat al-Carmel has over 17,000 Israeli Druze residents and is neighbor to the far smaller Druze village of Ussifiya.
Sam Halabi is an extremely charismatic, humorous and exuberant 35-year-old, who began creating pieces of art when he was just 12 years old. He shares his fascinating personal story with deep emotion, empathy and pride.
"When I was young I lived at the top of this house and often some of the paint, well actually quite a bit of it, would end up on the table and floor, and so instead of cleaning up the mess I just painted everything else around it," quipped Sam, his black trousers spattered in paint up to his knees, and shoes covered in so much paint one cannot really make out what was their original color.
"Some people visiting here thought I was too young to be the artist and so today I have come in my work clothes and shoes to prove it," he jokes.
"I am the last of ten children," explains Sam, standing on the rooftop cum café, addressing a group of Druze ladies visiting from the north of Israel, Jewish Israelis from the center of the country and a few German visitors, all sitting around colorful tables and chairs – all Halabi pieces of art of course.
He then grins and quips, "The other nine before me were all girls."
"My mother always encouraged my artistic side and was such a huge influence. Even though she has passed away, I still feel her love and support – and I miss her deeply," explained Sam, the father of two young daughters.
"I grew up in this house. My mother, who created the most beautiful embroidery, did not want me to become a spoiled prince like so many of the boys in the village, and encouraged me to help around the house to earn pocket money. When I was 18, she pushed me to open a studio – always saying that to be an artist was an honor – and at the age of 23, I opened my first exhibition.
"I will never forget one day when my mother pointed up to the moon and told me to look at how the moon illuminated so much darkness, and then she told me to be the moon and shine on the darkness."
"There were those in the Druze community who frowned upon my art but today are supportive. I have to say that I am really proud to have brought about serious change in perceptions over the years in many different areas here in our society," explained Sam, who began the House of Colors project nine years ago when his father died.
"After my mother died of cancer and my father remarried, I began to notice that many of my mother's belongings were being removed from this house. So I began to collect her embroidery and other items, some of which I painted – and now, here in the House of Colors, you can see the result," explained the artist, who received 1,800 liters of paint as a donation from one of Israel's biggest paint companies.
Sam also shares the fears, pain and depression he suffered after his mother passed away, and one room in the house stands out starkly against the rest as only black, white and grey paint used.
"I went through a very dark and difficult period of mourning for my mother, and even as I was using bright colors for all the other rooms, furniture and items in general, I expressed that darkness, greyness, in that particular room at a period in time that I had basically lost sight of color – but eventually I overcame that difficult period.
"Actually, one day when I was painting the outer walls and veranda on the second floor, some of the paint splashed down on to the traditional black dresses and white headscarves of an elderly neighbor. I thought she would be really angry and yell at me, but when I went down to apologize she said it was her fault as she had seen me painting and should have put the clothes line somewhere else.
She just laughed and said "Now I will be the most artistically dressed lady in the village."
Her reaction and obvious support was another of the many incidents, comments and other actions that had me truly feel I was bringing about change, a shift in perceptions. Today with a few other really excellent artists, restaurants and developing tourism here in Daliat al-Carmel, we are becoming dubbed as "The Druze Tel Aviv." Unfortunately there are other similarities, such as a higher divorce rate for instance."
Although somewhat off the beaten track, Sam Halabi's House of Colors is now well and truly out of the paintbox. It is known throughout the country since the release of a recent Ran Danker video and new song "Back to Reality", filmed in the building.
Not only was the hugely popular Israeli singer, dancer, model and actor filmed in the more than colourful abode, but he and a bevy of dancers wore clothing pre-painted by Halabi – who also splattered his art all over the singer and the dancers' hair, faces and upper bodies.
Even a Danker-held banana in the video clip was given the Sam Halabi multi-colorful treatment.
Prior to the Ran Danker "Back to Reality" clip being filmed at the House of Colors, and an item on the Danker shoot being screened on the popular Guy Pines late night show, Sam Halabi had already had his paintings, sculptures and other artistic creations exhibited in prestigious Tel Aviv and Jaffa galleries.
He is presently also working on a project in the center of the Ramat Aviv shopping mall on behalf of Mercedes Benz – where the artist is strutting his colorful stuff all over a brand new Mecedes electric car – and 70 pieces of his art are presently being exhibited in a Motza gallery near Jerusalem.
New exhibitions are planned for the near future, although one might be hesitant as more than likely Sam will be tempted to paint the town – literally!
Comments
No comments made yet. Be the first to submit a comment