Study in America - Live in Even Yehuda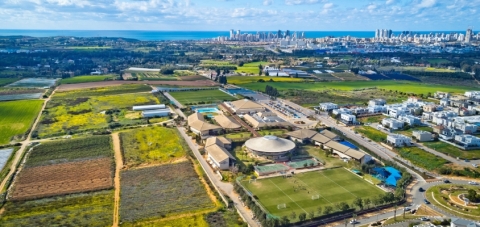 "Do not covet your neighbor's wife," thunders the tenth commandment, and "do not covet his house" comes hard on the heels of that. But what about his four tennis courts, or swimming pool, soccer fields galore, libraries and cafeterias, science labs and state of the art gyms? Art rooms and music rooms and robotics rooms and playgrounds for tiny tots? Throw in dedicated teachers, small classes and spacious grounds, spanking clean everything and not a raised voice or shoulder shrug in sight and it becomes hard not to covet the Walworth Barbour American International School for your own family's education.
The school began in 1958 in a small room in the now-demolished Validor Hotel in Herzliya Pituach, when Colonel Ralph Keller, then in Israel with the American Air Force, wanted a good education for his children. His family constructed the desks from wooden shipping crates, and one teacher taught all grades and all subjects. A few years later the school expanded into two rooms in Kfar Shmaryahu; several Foreign Service wives enlisted the aid of the American Embassy and the US State Department for further expansion. Then American Ambassador Walworth Barbour helped purchase land in 1963, and the Kfar Shmaryahu campus grew rapidly into a full Kindergarten to Grade 12 program by 1967.In 2007 the campus relocated to its spacious new home in Even Yehuda.
Dr. Devin Pratt, Superintendent of the School, is proud of the school's emphasis on creating responsible, compassionate citizens who are creative thinkers, effective collaborators and skillful communicators. Community service is stressed and pupils have every kind of extra curricula activity right on the premises: piano lessons and choir, drama and art, sport, chess, and learning support programs which provide extra academic help. GAIA, a Global Awareness, Investigation and Action program, combines science and service: pupils learn about fire ants and preserve newts and tortoises from nearby building sites.
The school is inclusive and honors Jewish holidays; the 565 pupils are 70% internationals – children of diplomats or business people from abroad – and 30% Israelis who have often come from International Schools abroad. And now, suddenly, an unexpected ramification of Diplomatic Relations and Policy has triggered a new direction for the school: the relocation of the American Embassy to Jerusalem is sparking an exciting new development.
Today it's not a fifteen-minute commute from Herzlia Pituach to school anymore; with Israel's crazy traffic jams a pupil living in Jerusalem might not get to school before it was time to go home again. And although there is a small sister school in Israel's capital city, it does not include a high school.
"So now we are expanding even more," explains Julie Fisher, ex-US Ambassador Dan Shapiro's wife, and Head of the School Board. "We have located a villa across the road from the campus, where students can live during the week and easily go home for the weekends. "As the school is closed on Sundays, this means boarders can spend two days at home each week.
The villa, a three-minute walk from the campus, will be a swish place to live. Two pupils will share a room, and the program, run by professional educators, will include life-skills like running a budget, planning and cooking meals, and supervised study time. The fees are high, for the boarding facility and for the school, but many are paid by parents' employers. Pratt stresses that scholarships and financial aid is available, and cost should not be an obstacle to applying. "We are looking for exceptional students to join both our Boarding Program, and our school," he explains. "We will make every effort to assist financially if we can."
Oh, and there's another thing. Families can visit the premises every two-day weekend; swim in the gorgeous pool, play tennis or basketball, lounge in the sparkling grounds. Just beware of one thing: even if you're a person who never takes the Lord's name in vain, honors your mother and father and would never kill or steal, it might be hard for you not to covet this particular piece of property.
Comments
No comments made yet. Be the first to submit a comment