Mission with a Vision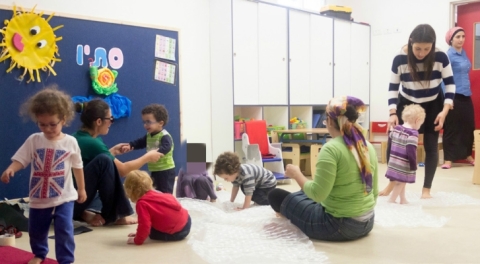 This year is a very special one for ELIYA - the Israel Association for Blind and Visually Impaired Children. It's the 40th anniversary of the non-profit association, which was established in 1982 by a group of parents who were desperate to find suitable daycare facilities for their visually impaired children.

They knew that their children needed more than just normal day care; they needed to learn a way to adjust to life in order to achieve their full potential. To help achieve this, they started a small day care center in an apartment in Kiryat Ono.
Over the years, ELIYA has grown and today,160 children, most from the ages of six months to six years, are cared for in five places throughout Israel - Petah Tikvah, Jerusalem, Beersheva, Rehovot and Kfar Maccabi.
ELIYA raises about 20% of its current budget from foundations and donors in Israel and abroad. The majority of the rest of the budget is received from government ministries, according to the law on rehabilitation services.
It's difficult to underestimate how important dealing with vision impairment in children is. Vision is not just a question of seeing. It is how children connect to the world. Vision affects everything about children's development – motor, cognitive and behavioral.

Moreover, says Chairwoman, Tamar Fisher, "Vision impairment can lead to other problems. For example, if children can't see, they will be reluctant to walk. It's frightening for them. We help them to overcome their fears so that they can do things that people thought they couldn't do."
Fisher, who has been volunteering with ELIYA for the past ten years and has been chairwoman for the past two, knows very well from personal experience what a challenge this can be. Her youngest son was diagnosed with epileptic syndrome and vision impairment, and did not survive. Because she has seen what ELIYA can do, she has maintained her connection.
It's important to start working with each child early, she points out.
Vision impairment in children can be seen at a very young age. Sometimes, it's evident from birth, in the case of disease or in some babies born prematurely. Other times, parents see that child doesn't react to them or make eye contact at two or three months, or doesn't smile when he should. There is a lack of connection.

During this crucial period, professional diagnosis, early intervention and the provision of therapeutic tools are extremely important.
Programs at ELIYA centers are individually based. It's not just a question of one kind of treatment, because visual impairments vary greatly. Some children are completely blind. Others have additional developmental challenges.
"Each child receives an assessment at the beginning of the year, and we provide a personal treatment program for each child. Most teachers have special education training, but we also train them internally in visual therapy."
The programs aim at helping the children feel confident so they can become more independent. There are many tools to help. One aid, for example, is a dark room: a room that allows an environment free of external stimuli, such as light, color, movement and noise. The goal of working in a dark room is to improve the child's visual function by raising awareness of the sense of sight, working on basic vision skills and strengthening existing vision skills. Other programs include a Snoozelen, a room for multi-sensory stimulation; music; art and many others.
In addition to working with the children, "It's really important to provide support for families. It can be very difficult for parents," she says, "and that's why we don't only treat the child, but also the family. When parents learns that the baby has a disability, they can become overwhelmed. Often they don't know how to deal with it or who to ask. When they come to ELIYA, they find emotional support as well as knowledge. They are freer to continue working and being with their other children.
"For parents, this is an amazing place, because we look at the child, not the disability. I've often heard parents say, 'You saved my life.'"
And after the child finishes the program?
"We aspire to have them attend a regular kindergarten or school, with an attendant, if necessary. Some children, who have other disabilities as well, go on to special education classes."
Seeing the world through a child's eyes
Each child at ELIYA is different, and each has a story. Here is one:
Ella is four and a half years old, a beautiful, charming and friendly girl. She is now thriving in the toddler's classroom in the day care center in Petach Tikva. Her parents and teachers say she loves to draw and to play, especially with her older brother Tom, who is seven years old.
As her mother Lee explains, "I gave birth to Ella and everything was going well. For two minutes we were so happy and then we noticed that something was wrong. The eye doctor just repeated the test over and over again. It was terrifying, I felt my whole world was falling apart. What would her future be?"
She heard about ELIYA through a parents' Facebook group. "When we brought Ella to the day care center, she was seven months old and she didn't do much. We didn't even know what to expect. I feel that ELIYA'S professional staff rescued her and us. I can't really imagine what our life would be without it. They are the reason that we feel comfortable and more assured about her future.
"ELIYA helped us in so many ways. The staff set up goals for her development in order to maximize her strengths so she would become fully independent and their advanced therapy methods and eye vision stimulation helped Ella to fulfill her full potential.
"For us as parents, social workers were always available to listen and help. They knew our struggles and were always there for us. Not that it is easy; the whole bureaucratic process is cumbersome it is and requires so much time.
"Today, Ella is a very happy child with many friends. She functions as a normal child despite her vision impairment, above all our expectations. I give full credit to ELIYA and it's wonderful, caring and devoted staff."
This email address is being protected from spambots. You need JavaScript enabled to view it.
Eliya welcomes support. ContactThis email address is being protected from spambots. You need JavaScript enabled to view it. tel: 03-9336840
Comments
No comments made yet. Be the first to submit a comment