Coco Chanel (1883-1971)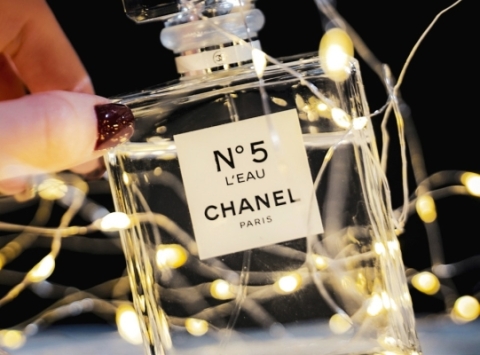 Fashion Designer, Empire Builder and Vicious Anti-Semite

Coco … cocorico (French for 'cock-a-doodle-doo'). Now, when the French are proud of themselves – which is often the case – or of something they have achieved, they shout cocorico, since the rooster is the symbol of la France immortelle.
Gabrielle Bonheur (which means 'happiness') was born to a laundrywoman named Eugénie Jeanne Devolle, who worked in a charity hospital in the small town of Saumur. Her father, Albert Chanel, sold clothes and undergarments in the street. Gabrielle's mother died when the girl was 11, and her dad sent her with her two sisters to a convent orphanage, where they had to obey the strict orders of the nuns and where they learned how to sew. Coco was a toughie, for not only did she become a good seamstress, but she soon started singing in cabarets frequented by cavalry officers, acquiring a taste for uniforms. That's where she got her stage name Coco, which is also the abbreviation of cocotte, meaning prostitute.
Coco went to Vichy, the famous spa resort, which was going to become the seat of Pétain's government during World War II, the former hero of the First World War, who collaborated with the Nazis, sending tens of thousands of Jews to concentration camps.
There were many entertaining places in Vichy, such as concert halls, theaters, and cabarets. And Coco dreamt of making a career as a singer and a performer. But she didn't have the right voice, and her acting was mediocre. She soon realized that the stage wasn't for her.
In Moulins, Coco, who was now twenty-three and quite pretty, met Etienne Balsan, a wealthy cavalry officer, and they became lovers. Thanks to him, Coco became a chatelaine (mistress of a château), and they lived in a castle near Compiègne. Etienne showered her with diamonds, pearls, and beautiful dresses. He introduced her to his good friend, the English Captain Arthur Edward Capel, who was even richer than him. She followed Arthur to Paris, where he bought her a luxurious apartment and paid for her first dress boutiques. They lived nine years together until the latter died in a car accident. That loss saddened her very much. But, like in the song, she rose like a phoenix.
In 1910, Coco opened a boutique in Paris on rue Cambon, with the name Chanel Modes. She then installed two other boutiques in the posh resort towns of Deauville, in Normandy, and in Biarritz, on the Basque coast, where she became the lover of a Russian Grand Duke. It seems that the gal kept all her marbles, never missing an opportunity.
In 1920, Coco met three soon-to-be famous Russians, the composer Stravinsky, the choreographer Diaghilev and the ballet dancer Nijinsky. She helped them financially and designed the stage costumes for the Ballet Russe.
In 1922, she was introduced to the Jewish brothers Pierre and Paul Wertheimer, who managed the luxury cosmetics house Bourjois. They signed an agreement with her and put in the money to launch Coco's perfume Chanel N° 5, thus creating the corporate Parfums Chanel. Later on, realizing that Pierre controlled her brand, she called him 'the bandit that screwed me', and fought for twenty years to gain complete control of Parfums Chanel.
The lady was a drug addict, throwing cocaine parties across Paris, which didn't stop her from designing new dresses. She must have had molten rubies flowing in her veins.
The famous author Colette wrote this about Coco:
"If every human face bears a resemblance to some animal, then Mademoiselle Chanel is a small black bull. That tuft of curly black hair, the attribute of bull-calves, falls over her brow to the eyelids and dances with every movement of her head."
Coco befriended people of the British aristocracy such as Winston Churchill, the Prince of Wales, and the Duke of Westminster. The latter also became her lover and spoiled her rotten; not only did he buy her jewels but also a fabulous home in London's posh Mayfair district. Later on, he gifted her a valuable plot of land on the French Riviera, where she had a sumptuous villa built. In spite of the fact that these two were both antisemitic and homophobic, Coco got acquainted with the Jewish American film mogul Samuel Goldwyn. He offered her one million dollars (today it would be worth 75 million dollars!) to design dresses and costumes for his Hollywood stars. So the lady went to America and got interviewed left, right, and center. She designed evening clothes, robes, and hats for the likes of Gloria Swanson, Greta Garbo and Marlene Dietrich. All the while she was treated like a queen, Coco thought that Hollywood was for the birds; she found the whole set-up childish and vulgar. Samuel Goldwyn was very disappointed with her work; it wasn't glamorous enough. She didn't like the film industry, but in France, she continued nevertheless to design for the movies. The money was good, even if the job stank. Like the camels, she learned how to shut her nostrils to avoid breathing the foul smells.
During the Second World War, Coco closed her shop and stayed at the Hotel Ritz, where all the Nazi bigwigs resided. Not only did she hobnob with them, but she slept with several of these Hitlerites. She was a collaborator alright, and what's more, she took advantage of the fact that the Boches (pejorative word for Germans) had confiscated all the money that belonged to the Jews to 'recuperate' Parfums Chanel from Pierre Wertheimer, adding that she too hated the Jews, when they were the ones who helped her build her business. She even spied for the Gestapo, providing them with names and other sensitive information. There is a book about her, written by Hal Vaughn, titled Sleeping with the Enemy: Coco Chanel's Secret War.
At the end of the war, to avoid prosecution, Coco Chanel fled to Switzerland. Whereas many of the French women who had slept with Nazis had their heads shaven in public, Coco almost got away scot-free. And you know who helped to rehabilitate her? The war hero Winston Churchill himself. Those two must have been long-time lovers; how else can you explain that?
Coco Chanel was a fashion genius, but also a sneaky manipulator. Now that I have learned what disgusting things she did to become famous and build her empire, I will never buy anything with her name on, whether it is for a girlfriend or a sister. If I did, it would be like wearing clothes stamped with a huge swastika.
Comments
No comments made yet. Be the first to submit a comment